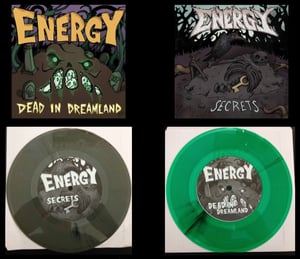 $

5.00
Boston's Energy and South Florida based label Dimlight Records have teamed up to bring you a Double A-sided Single 7" E.P for the songs "Secrets" and "Dead in Dreamland".
"Secrets" is an outtake from the recording sessions of the band's "Walk Into The Fire" E.P which was released in October 2010 through Bridge Nine Records, and "Dead in Dreamland" was recorded as part of Energy's free digital single series.
This one time pressing is limited to 300 records: 100 black, 100 green, and 100 olive gray.
Download for free: www.thisenergy.com
Artwork by George Bats